May 3, 2017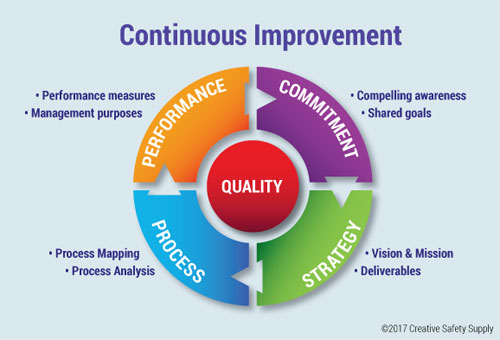 A continuous improvement strategy is any policy or process within a workplace that helps keep the focus on improving the way things are done on a regular basis. This could be through regular incremental improvements or by focusing on achieving larger process improvements.
Facilities that focus on improving continuously become more competitive over time and can maintain their advantages in their industry, but only if the improvement efforts are done correctly. Taking good baseline measurements and taking ongoing measurements will help identify the effectiveness of the efforts being made.
Continual Process Improvement Model
Many strategies and methodologies can be used when focusing on continuous improvement. Finding the right one for a given industry is important as it will help maximize the results. All the continual improvement models, however, will focus on similar types of improvement, as seen in this image:
Making ongoing improvement in performance, commitment, strategy, and process all help build up the company's bottom line. This image also illustrates that any improvements in these four categories will also help build up improvement in the overall quality being produced by the facility.
Plan-Do-Check-Act
Another helpful concept is the "plan, do, check, act" process. This is a cyclical process that walks a company or group through the four steps of improvement. By continuing to cycle through these steps, improvement is always being worked on and evaluated.
Each step builds on the previous step, and then feeds into the next.
Plan - In the planning phase, teams will measure current standards, come up with ideas for improvements, identify how those improvements should be implemented, set objectives, and make the plan of action.
Do - Implement the plan that was created in the first step. This includes not only changing processes, but also providing any necessary training, increasing awareness, and adding in any controls to avoid potential problems.
Check - Taking new measurements to compare with those taken prior to the change is an important step here. Analyze those results and take any corrective or preventative actions to ensure the desired results are being achieved.
Act - All the data from the change is analyzed by management teams to determine whether the change will become permanent or if further adjustments are needed. The act step feeds into the plan step since once a change has been fully implemented, it is time to begin looking for new ways to make further improvement. 
Improvement Strategies
The concept of continuous improvement is an umbrella term covering many methodologies used to achieve the goal. Choosing the right strategies for a facility will help maximize results and ensure the long-term success of the efforts. A facility can choose to have multiple continuous improvement strategies in place at any given time. Different areas of the company, or even different departments within an area, can each work off of a separate strategy to maximize results.
Lean & Continuously Improving
Lean continuous improvement is a strategy designed to help eliminate waste throughout a company. Waste is anything that doesn't add value for the customer. In many ways, this continuous process improvement strategy works to eliminate problems rather than directly improve a process. The results are similar, but by taking a waste-focused approach, it is often easier to come up with goals from which improvement strategies can be developed.
Value Stream Mapping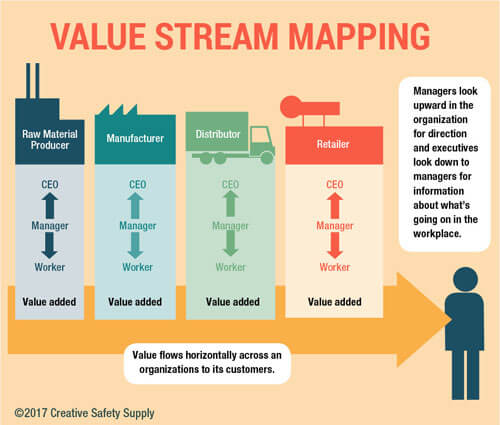 Value stream mapping is one of the most important continuous improvement strategies because it can be used within almost all others. This process looks at the design and flow of processes within a company to see where value is being added. A value stream map can also be a great brainstorming tool for areas that could be improved. 
A good value stream map will be very detailed and formatted like a flow chart. It is utilized to help isolate each of the steps in a process to see where value is being added and where it is not. This makes it easier to eliminate or modify the areas where value is either missing or could be increased in the process. The idea of value stream mapping was originally developed for manufacturing processes, but it can be adapted to other industries as well. 
Kaizen
Kaizen is a popular continual improvement strategy that has been around since the 1980s. This concept helps focus on improvements that are based on making a lot of small changes rather than fewer larger changes. The ideas for the changes typically come from the front-line employees rather than the management team or other planning department. This is effective because those working on the front-line are directly impacted by problems and will be able to more easily identify where improvements can be made.
Some of the benefits of Kaizen include:
Capital Investments - By focusing on smaller, incremental changes, the company doesn't typically need to come up with significant capital resources to implement the changes.
Engaged Workplace - By encouraging employees to contribute the improvement ideas, they become more engaged.
Long-term Improvement - Each small improvement made builds on previous improvements, leading to a snowball effect.
Total Quality Management
Total Quality Management (TQM) began in the manufacturing sector, but has since been adapted for use in many other environments. It focuses on improving employee involvement, customer satisfaction, communication, and other key elements for success within a company. This is a continuous improvement strategy that is often incorporated into or alongside, other strategies to help maximize the successes.
The 5S Strategy
5S is an organization method that helps identify how a workspace should be organized to improve efficiency and effectiveness. This is done by identifying what is needed at each step of a process and ensuring it is immediately available. There are many ways to do this including organizing tools so they are easy to find, moving machinery around so that a part flows from one to the next, and ensuring stored parts or equipment are available when needed.
Continual Improvement Tools
Having the right continuous improvement tools is essential to the long-term success of any strategy. These tools can be anything that helps ensure the quality improvement process can move forward successfully.
Some simple examples of this include foam tool organizers to ensure tools are kept in good working order and stored where they are easy to access. Floor marking tape is an excellent example of improving visual communication, which can help improve efficiency and boost safety, which is essential for improvement.
Implementing Continuous Process Improvement
There are many strategies and methodologies available to help companies implement continual improvement. These are a great way to start since they offer guidance on taking those first steps, as well as longer-term ideas for how to keep this strategy moving forward when it becomes more difficult.
Most companies don't strictly implement just one strategy, but rather adapt existing methodologies to meet their specific needs. Using something like Lean as a base from which to build on can be a very effective strategy to keep a facility focused on improvement strategies today and long into the future.
Sources
https://en.wikipedia.org/wiki/Total_quality_management