Oct 5, 2017
All facilities require fire extinguishers to be on-site, charged, and easy to access. They also need to be inspected regularly to ensure they will work should a fire occur. Of all the different rules and regulations that employers need to follow, those related to fire safety in general, and fire extinguishers specifically, are among the best documented. When fire extinguisher safety standards are followed, it can help to minimize the risk of a disastrous fire.
Once the location of a fire extinguisher is chosen, it is important to make sure that they are easy to find. This is typically done by using several different types of visual communication tools. Wall signs, lights, and other things are commonly used, but one thing that many people overlook is the use of floor markings for fire extinguishers.
Advantages of Fire Safety Floor Markings
Using floor markings for fire extinguishers brings with it many different advantages. Understanding all the benefits is a great way to help decide whether this type of floor markings is the best option in each facility. The benefits for these markings include the following:
Visibility from Above - When someone is coming through on a high-low or other vehicle, they will be able to easily see any floor markings.
Durability - Floor marking signs, including those for fire extinguishers, are made to be very durable, even in high-traffic areas.
Easy Installation - Installing fire extinguisher floor markings is quick and easy, only requiring a clean surface to complete.
Multi-Use - Facilities often use floor markings with arrows as directions to point toward the fire extinguisher location. This can help guide those who need them to the extinguisher itself as well as warn them against blocking the area.
Affordable! - Floor markings signs for fire extinguishers are very affordable, especially when considering how long they last. Facilities can put markings everywhere that they are needed with very little cost.
Types of Fire Extinguisher Floor Markings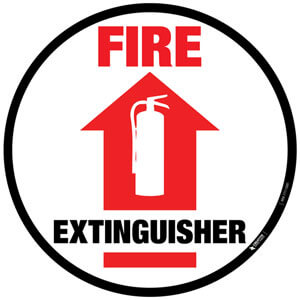 There are many options when it comes to floor markings for fire extinguishers. Each variety has a unique purpose, and in virtually every case, multiple different types of floor signs can be used together. Analyzing several options can illustrate how they can properly be used in a typical facility.
Fire Extinguisher "Do Not Block" Signs
Placing this type of floor marking near the extinguisher itself, with the arrow pointing toward where the extinguisher is mounted, is an excellent way to alert people to its location. The added "Do Not Block" text will remind employees or others in the area not to stack inventory or other items in the area so that the fire extinguisher is always accessible.
Bilingual Fire Extinguisher Floor Sign
In facilities where there are people who don't speak English as their native language, having bilingual floor signs can be essential. For example, the Spanish language fire extinguisher floor signs can be used on their own, or alongside the English versions to help ensure everyone can understand where a fire extinguisher is located at all times.
This doesn't just apply to fire extinguisher signs either! Bilingual signs are helpful for 5S facilities, any type of safety signs, and anything else you can think of. In fact, according to OSHA, all employees have a right to know what kinds of hazards are in their immediate environment, which means employers must provide information that is understandable to everyone.
Fire Extinguisher Floor Signs
Basic fire extinguisher floor signs send a clear message about where the extinguisher is located. This fire safety sign can be placed either directly under the extinguisher or in some other area nearby. The arrow can guide employees, emergency responders, or others directly to the extinguisher so that they can respond to a fire should one occur.
These signs are often paired with hazard floor marking tape as well, just to make the message even more clear around fire extinguishers.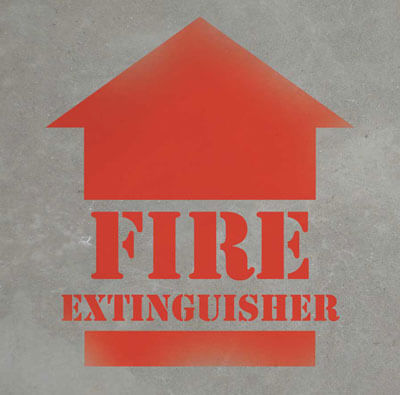 Other Floor Marking Options
There are other options for floor marking that a company can consider as well. Some companies will use stencils and floor marking paint to convey the necessary message. This does give some additional flexibility on exactly what the floor markings say. Of course, good floor markings signs can also be customized to meet the needs of any situation.
No matter what type of floor marking is used, the most important thing is to ensure the markings convey a very clear message. No markings should increase confusion by making people think that the sign is leading them to a fire exit, for example. Having a well-thought-out floor marking strategy for everything in the facility is critical, especially when working to incorporate new markings such as those for fire extinguishers.
Code Compliant Fire Safety Floor Marking Requirements
Whether a facility uses wall signs, floor markings, or other visual communications options, it is important to remember that it is necessary to use some type of signage. OSHA requires that facilities make fire extinguishers visible and easy to access at all times. 
1910.157(c)(1) specifically states, "the employer shall provide portable fire extinguishers and shall mount, locate and identify them so that they are readily accessible to employees without subjecting the employees to possible injury."
Signs hanging up throughout the facility will ensure the company is always in line with the OSHA regulations.
Following the National Fire Protection Association Sign Recommendations
OSHA is regularly looking to the National Fire Protection Association, also known as the NFPA, for fire safety best practice methods. This is done by occasionally taking standards that the National Fire Protection Association has issued, turning those standards into mandates. You should take the time to read through NFPA 10 Standard for Portable Fire Extinguishers. 
By regulating how a facility should be labeling its fire safety equipment, including extinguishers, OSHA can standardize workplace practices and make it easy for workers and the fire department to stay safe even if they change jobs. 
All safety managers and others working for a facility need to make sure to keep up to date with the latest news and information from OSHA and other regulatory bodies to avoid getting any type of penalty or citation that could cause significant issues.
Where to place Fire Safety Floor Markings
As we've already gone over the importance of implementing fire extinguisher signage in the workplace, it's time to talk about other fire safety precautions you can take to improve your employees' response to emergencies.  
On top of marking where fire extinguishers are located, you should make sure to mark the following:
Emergency Exits – Marking emergency exits are critical for successful employee evacuation during a fire or other emergency. This is usually done with lit signs above the door, wall signs that direct employees to the exit, and even glow-in-the-dark signs in case the power goes out.
Emergency Evacuation Routes – Mark aisles and passageways intended to be used as an emergency evacuation route. These routes are required by OSHA for facilities to have documented Emergency Action Plans. Aside from periodically training employees on evacuation protocol, implementing floor markings will help remind them in case of an emergency.
Fire Protection Systems – Mark the location of other fire protection systems the facility has! There should be fire alarms as well as a sprinkler system that can be labeled. This will help maintenance workers find where these essential protection systems are so they can perform regular maintenance. 
Anywhere you can identify fire safety components will be a great help to your employees. This is because oftentimes during an emergency, it can become a little chaotic. Hopefully using floor markings and other labeling opportunities, that risk can be reduced. 
Update Floor Marking Tape When Fire Safety Equipment Moves
Facilities sometimes must rearrange machinery or other items to improve workflow, or for other reasons. When this happens, it may become necessary to move a fire extinguisher as well. If this is done, it needs to be a priority to add new floor markings that will direct people to the new location of the fire extinguisher. Ideally, this should be done while the extinguisher was moved so that there is no point where the people in the facility wouldn't be able to find it if needed.
Equally important is going to be removing the old floor markings that are now pointing toward an area that doesn't have a fire extinguisher (if applicable). Using heavy-duty floor scrapers, it is possible to have even larger floor marking signs removed quickly.
Removing old markings is essential because they could lead people into danger. If someone follows an old sign expecting a fire extinguisher, and one is not there, they could get seriously injured. This would also prevent or delay them from being able to put a fire out, which puts the entire facility at risk.
Maintaining Fire Extinguisher Floor Markings
Once any type of floor marking is put in place, it needs to always be maintained. This means keeping it cleaned so that the sign is visible and easily legible to everyone in the area. Facilities that purchase heavy-duty floor markings will find that they can clean them using most any common floor cleaning products that are used in the facility.
The maintenance team can use mops or even large floor cleaning equipment and go right over the floor markings to keep them clean. This will remove grease, dust, and other debris that could otherwise obstruct the view of the sign for those in the area.
Fire Safety Training
As with any type of safety effort in a facility, training must be a key component. While fire extinguisher floor markings are typically self-explanatory, it is still a good idea to provide information to employees about what each one means.
This can be done in any normal safety training class that the facility provides. Some companies also put up 'keys' that display what different symbols mean, which can provide good reminders to employees about what everything means regarding the floor markings throughout the facility.
Fire Safety Resources from Creative Safety Supply
Creative Safety Supply is committed to your facility's visual communication efforts involving fire safety. We have several different free educational resources that you can use to supplement your regulatory knowledge on fire safety. Check out our Fire Safety Guide here! It's free to download to help you improve your workplace.
We also have a free Floor Marking Guide that you can use to guide you on your facility marking journey, whether that be for fire extinguishers or lane marking for forklift traffic. We also have both a fire safety resource page and a floor marking resource page to keep you all up to date on the newest regulations and standards within the industry.
Get started on your floor marking journey for fire safety and fire extinguisher specific communication today! Our SafetyTac® tapes and plethora of choices for floor signs are right at your fingertips. You'll save time, money, and effort if you choose to install industrial floor marking materials at your facility.