Industrial ESD Tape
SKU:

IND-ESD
Frequently Bought Together
Please choose options for all selected products
Description
Industrial ESD Floor Tape
** 3 ROLL MINIMUM per order. This product is custom printed and non-returnable. **

50' roll length.
Perfect for almost all situations. It's the most industrial ESD Floor Tape on the market.
Choose from 11 different versions of ESD Text and Graphics. 4-5 day lead time.
Features
Incredibly durable
Text and graphics will not scratch or smudge off
Works well in most industrial traffic areas including areas with forklift traffic
Each rolls is 50' long each
3 size options: 2",3",& 4" wide
11 different versions to choose from
ESD Tape can be removed without leaving a residue
Approximately as thick as a credit card with ta low profile making it easier for traffic and carts to glide over it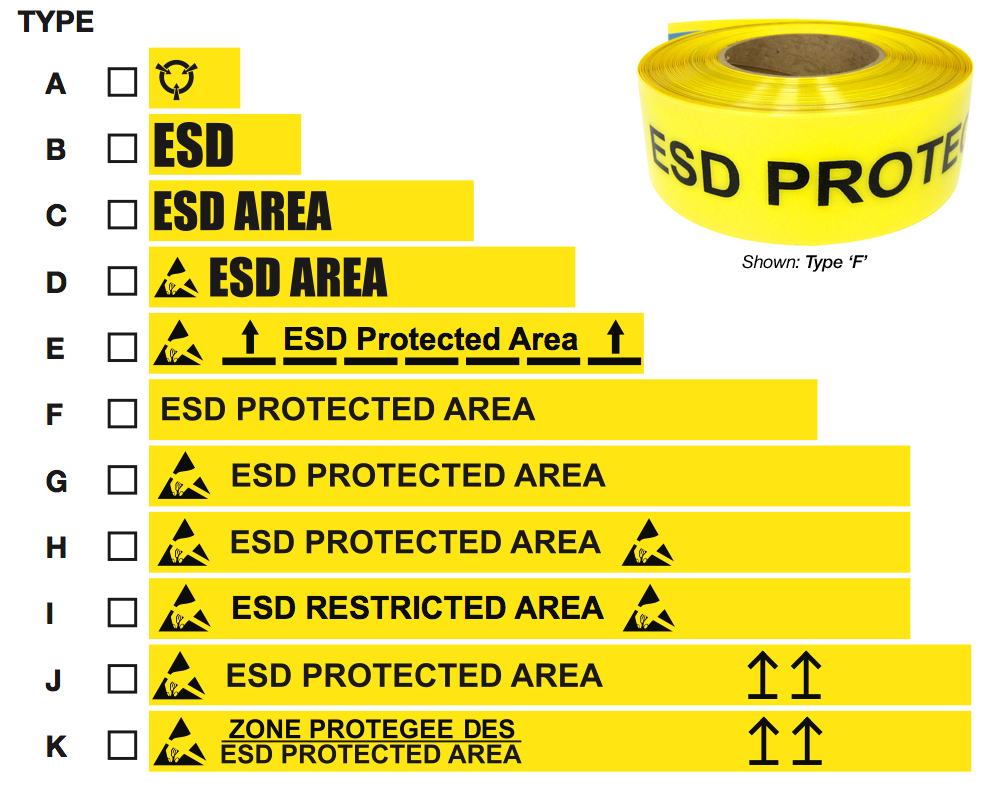 Related Products
Request more information
Send me information about Industrial ESD Tape
Get more information about this product and one of our sales representatives will be in touch with you shortly!
Warranty
At Creative Safety Supply, we guarantee the quality of our products. If you're unsatisfied with your purchase, you can return new, unopened items within 30 days of purchase for a full refund. That way you can feel confident the products you order will meet your expectations, or you'll get your money back.
For full warranty information, please visit our warranties page.
Customer Photos
Downloads
Recommended Literature
Best Practice Guides
Free Samples
Many types of floor marking tape exist, and you may be wondering which one is most suitable for your workspace. To help you decide, we'll send you a box of free floor tape samples so you can give them a try.
Creative Safety Supply Reviews