SafetyTac® 2.0 with Armor Technology
SKU:

SA201
Frequently Bought Together
Please choose options for all selected products
Description
SafetyTac® 2.0 Floor Marking Tape
SafetyTac® 2.0 is designed with ARMOR technology to withstand the toughest industrial conditions. The harder, denser material used in SafetyTac® 2.0 allows it to hold up to intense traffic, and the tape has advanced pivot resistance so forklifts and other equipment can turn directly on the tape without causing damage. Triple-stage profile make it possible for heavy machinery to easily slide over the tape, and it won't shatter, even when a heavy object is dropped on it. Like standard SafetyTac® tape, SafetyTac® 2.0 is also resistant to wet conditions and chemical spills.
Specifications
| | |
| --- | --- |
| Thickness: | 70 mil peak thickness |
| Profile: | 5 mil/10 mil/15 mil triple-stage profile |
| Surface: | Smooth, slip-resistant finish for easy cleaning |
| Material: | ARMOR Technology™ PVC composite |
| Adhesive: | Reinforced dual-sided cloth adhesive |
| Adhesive Color: | White |
| Liner Color: | Blue |
| Application Temperature: | 40°F to 90°F (4.5°C to 32°C) |
| Service Temperature: | 0°F to 130°F (-18°C to 54°C) |
| Warranty: | 2 year limited |
Recommended Downloads
Best Practice Guides
Low Profile
SafetyTac®'s low profile allows it to sit smoothly on your floors, so it will not create a tripping hazard.
Shatter Resistant
Despite being made from a dense material, this tape is engineered not to shatter even if heavy objects are dropped on it.
Advanced Pivot Resistance
This tape's flexible and resilient material prevents damage when heavy equipment turns or pivots on it.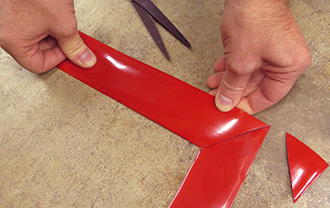 Easy to Install
Applying SafetyTac® tape to the floor is simple. Remove the backing, lay the tape on the floor, and press it down. No dry time required.
Request more information
Send me information about SafetyTac® 2.0 with Armor Technology
Get more information about this product and one of our sales representatives will be in touch with you shortly!
Warranty
We know our industrial floor tapes are the toughest on the market, so we stand behind them. As long as it is installed and maintained properly, SafetyTac® 2.0 comes with a two-year warranty. If you have a problem before your warranty period is up, we̥ll replace your tape for free.
Customer Photos
Downloads
Recommended Literature
Best Practice Guides
Free Samples
Many types of floor marking tape exist, and you may be wondering which one is most suitable for your workspace. To help you decide, we'll send you a box of free floor tape samples so you can give them a try.
Creative Safety Supply Reviews