Description
5S Tape Multipurpose Tape
Strong vinyl material - Comparable to 3M 471 Colored Vinyl Tape
Multipurpose - Useful for a variety of marking applications including marking floors, walls, doors, shelving, supplies, equipment, and more
Rubber-based adhesive
Available in 10 standard colors in sizes from 0.25" up to 6" wide
5S Tape™ Multipurpose Tape is made from a strong vinyl material and can be used for a variety of applications such as marking floors, walls, doors, shelving, supplies, equipment, and more. This tape is great for increasing the organization and safety of industrial workplaces and is a useful tool for 5S programs. Whether the tape is exposed to water, chemical spills, constant UV rays, or other workplace hazards, it will still retain its adhesive and functionality. 5S Tape™ Multipurpose Tape is also easy to install, so you won't need to worry about downtime.
Ideal uses:
Floor marking
Shelf labeling
Pipe banding
Creating columns and charts for whiteboards, planners, and walls.
Color coding equipment and supplies
Mat and vinyl repair
School and classroom projects
Features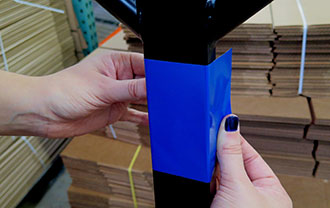 Multipurpose
Use 5S Tape™ Multipurpose Tape on almost any surface.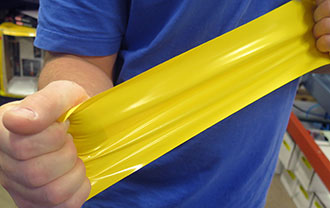 Strong Vinyl Material
Thanks to its durable material, this tape can tolerate tough conditions.
Resources
Vinyl Floor Tape Solutions
5S vinyl floor tape is a great tool to use in your 5S or Lean work environment. If you're searching for a tape product with just a little more durability, then we recommend you check out our Smart Stripe Tape. Smart Stripe Tape differs from 5S Tape™ Multipurpose Tape because it is thicker and able to withstand the demands of heavier traffic levels. In addition, our industrial SafetyTac® tape is also a helpful solution that is extra durable. At Creative Safety Supply, we carry a wide assortment of marking solutions to meet even the most unique and challenging needs. We offer free samples of our tapes so you can be the judge of what tape will best fit your unique needs. Give us a call at 866-777-1360 or fill out our online form and start testing out our high-quality, industrial-grade tapes today! Check out our full list of tapes by clicking here.
Wide Vinyl Tape
We can offer wider vinyl tape from 1" to 48" wide. We have all colors and sizes in stock. Call to find out how to order sizes that are wider than the drop down menu found on this page and to get pricing. Creative Safety Supply also offers a number of solutions including colored vinyl floor marking tape that can be used in warehouse and office spaces.
Warranty
At Creative Safety Supply, we guarantee the quality of our products. If youÌ´Ì_'re unsatisfied with your purchase, you can return new, unopened items within 30 days of purchase for a full refund. That way you can feel confident the products you order will meet your expectations, or you'll get your money back.
For full warranty information, please visit our warranties page.