The LabelTac® 4, our popular, entry-level system, lets you take label creation into your own hands. With this budget-friendly printer, you can make ½" to 4" labels that will hold up to harsh indoor or outdoor conditions. LabelTac® labels are clear, won't fade, and will last for years. The printing process won't be a hassle because with a LabelTac® 4 you can easily print labels from any PC. This model's small footprint won't take up too much space in your workplace either, so you won't need to worry about it getting in the way. Plus, the LabelTac® 4 comes with an unbeatable lifetime warranty.
Compatible with supplies from ½" to 4"
Small footprint
Budget friendly
Connect to any PC with USB 2.0
Optional Mac OS X Compatibility ($99.00 add-on). For details, call us at 1-866-777-1360
Features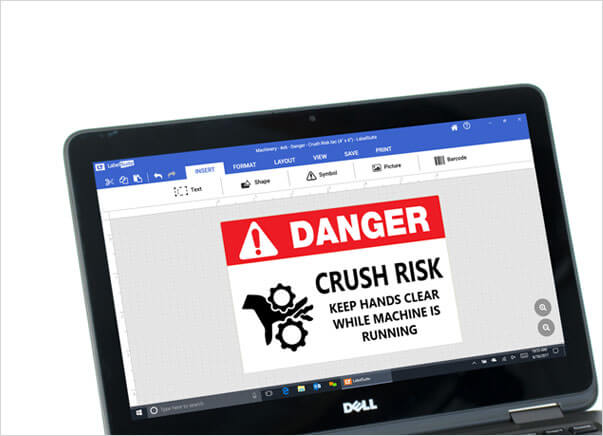 Includes LabelSuite™ Label and Sign Software- FREE! ($299.99 value)
With the included LabelSuite™ software, you can make even complicated custom labels in no time. Designed to be the easiest labeling software on the market and packed with included content, LabelSuite sets a new bar for simplicity and power.
Easy to Use
The LabelTac® 4 printer is easy to load, and you can print using a wide range of software. That makes the printing process fast and simple. No steep learning curve.
Budget Friendly
This entry-level model has the features you need to tackle labeling projects at an affordable price.
Videos
LabelTac® Benefits
Full LIFETIME Warranty
Best printer warranty in the industry
Save up to 75% off
vs using other methods or printers
High quality, 300 DPI printing
ensure your labels look crisp every time
Free included software
for designing your labels and signs
Free templates and symbols
to jumpstart your label and sign creation
Same day shipping
On most orders placed before 1 p.m.
All LabelTac® printers include a FULL LIFETIME transferable warranty on all parts, labor, and related costs. Creative Safety Supply will repair any printer that is defective due to materials or workmanship, standard wear and tear, or mechanical malfunction. We provide this industry-leading warranty so you can use your printer as often as you need to without worrying about equipment problems. Ití´s our goal to make owning a LabelTac® printer easy and worry free.