Using valve tags is an important, though often overlooked, way of improving safety and efficiency in many facilities. Many people in facilities don't think about valve tags because pipes and valves are one of those things that just operate in the background without much thought. Of course, if someone opens the wrong valve it can cause a very dangerous event.
Whether you are looking to start using valve tags for the first time or you just want to improve the way your facility uses these items, it is important to take some time and learn about all the best practices. When done properly, using valve tags can dramatically reduce the risk of spills, accidents, and injuries related to the pipes and valves in your facility.
Valve Tags
Let's start by looking at what valve tags are and how they can benefit your facility. To put it simply, a valve tag is any type of tag that can be attached to a valve (almost always at the end of a pipe). These tags can be made of plastic, metal, wood, or even just paper depending on the specific needs of your facility.
The tags can range in size from a very small circle that has just a couple of words or numbers on it to a larger square tag that can contain quite a bit of information. Choosing the right valve tags for the right situations is very important. In most cases choosing which valve tags to use will be completely up to the facility, but there are some standards from OSHA, ANSI, and other regulatory agencies that you need to follow in certain situations.
Taking the time to learn about all the requirements and all your options ahead of time will help ensure you implement the right strategies from the very beginning.
Types of Valve Tags
When researching which valve tags to use in which situation you will want to know what all your options are. The following are just a few of the most common applications for valve tags. Remember, you can use these tags in industrial manufacturing settings, while working on construction sites, in homes, or just about anywhere else.
Plumbing Valve Tags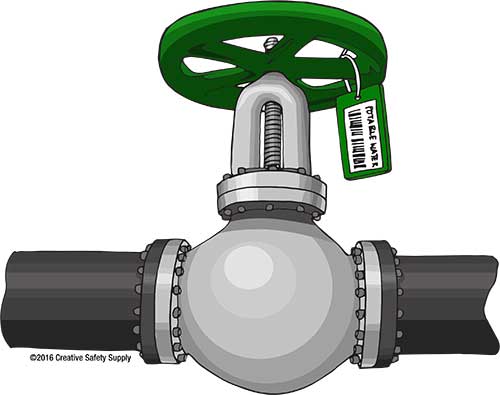 All plumbing valves should be tagged so that the maintenance team can identify where problems are and get them fixed as quickly as possible. This is an important one because of all the pipes and valves in the facility, the traditional plumbing will have the most issues. Plumbing waste pipes and things like that can get clogged more easily and have more problems than, for example, a normal steam pipe.
Of course, this is not always the case so you'll have to evaluate the situation in your facility. A normal cold water plumbing pipe that goes to a valve in a restroom, for example, will typically work quite well.
Water Pipe Labels
There are many different types of water pipes in a facility and most cases, they will in with some type of valve. Tagging these valves is important because water can be used for so many different things. You don't want someone opening a valve to get potable water only to find wastewater coming out. This could cause illness and other issues.
Proper water valve tags can go along with water pipe labels used in your facility. You can even have the tags and labels follow the same color scheme, which is very important for many visual communication strategies.
Chemical Valve Tags
Do you have pipes that transport chemicals throughout your facility? If so you must have the valves tagged properly. In many cases, you should have the valves tagged and locked so that people can't accidentally open them without taking the needed safety precautions.
Whether the chemical is extremely toxic or quite mild, tagging these valves is critical for facility safety. In addition to improving safety within your facility, it can also help to keep your company operating efficiently. You won't have potentially expensive chemicals wasted because people don't know which valve goes to what.
Temperature Based Valve Tags
Here is another critical type of valve to tag. Any pipes that carry very hot liquids, steam, or other gasses need to be properly tagged. This is essential because if someone opens a valve that has pressurized steam, for example, it could almost instantly cause severe burns and even death in some situations. If you don't have the valves properly tagged someone may unknowingly open it a major issue within the facility.
Safety & Regulatory Valve Tags
In most cases a facility will implement a valve tag policy because they want to help keep everything safe. In some situations, however, it may be required. Some regulatory agencies such as OSHA or ANSI have guidelines that require these types of tags and labels in certain situations.
If you don't follow their requirements then you could get fined or otherwise penalized for being out of compliance.
Lockout Tag Out System
One of the best examples of this type of requirement from OSHA is the lockout/tag out system. This is a system where anyone who is working on certain types of machinery needs to lock the machine's power source out. While this typically refers to an electrical source, you may also need to lock out a valve containing chemicals or other things.
For example, if a machine is powered by a water supply (hydroelectricity) then you'll want to lock out the water supply by closing the valve and locking it. In addition, putting a tag in place on the valve will help ensure that nobody turns it back on while someone is working on the machine itself.
This is not something that most facilities are going to run into, but it is definitely something to be aware of. The following is a quick overview of the lockout tag out systems and how they can be helpful. If you are not familiar with this safety program it will be worth it to take a few minutes to learn about it:
Valve Standards
Another regulatory thing to consider is the valve standards that are in place for many different situations. Depending on where your facility is, there are standards for things like flow rates, types of valves and much more.
Your facility can benefit from learning as much as possible about all the different valve standards that you are required or recommended to follow. You may want to add information about these standards to your valve tags so people know that they need to remain in compliance at all times. Some companies even put valve tags that specifically address regulatory requirements. These are some of the different standards in place (and a link to the full standards) that you should be aware of when running any type of facility:
Valve Color Code
Another thing to consider is color coding your valve tags. While this is not typically going to be a requirement for your facility, it can be a very effective way to get the most out of your valve tags. You can get plastic valve tags in many different colors, which makes this process extremely easy.
Of course, you can also print off labels that are in different colors too. However, you decide to make the labels for your facility, using the different colors is an excellent option for improving their effectiveness.
Choosing what each color means may take some thought, but there are some almost universal standards that you can build on such as the following:
Red - Red labels could be used for hot liquids. In almost every setting people know that red is associated with heat so this will be a very effective option.
Blue - Blue is commonly associated with cold so this could be a good option for any valves that will produce cold liquids or gasses.
Black & Yellow - The black and yellow strips often indicate some type of hazard. If you have a valve that may produce a dangerous chemical, this may be a good option to be on your tags.
Of course, whenever using color coding for any type of safety standard it is important that you also train people on what each color means.
 >
 >
Valve Tag Chart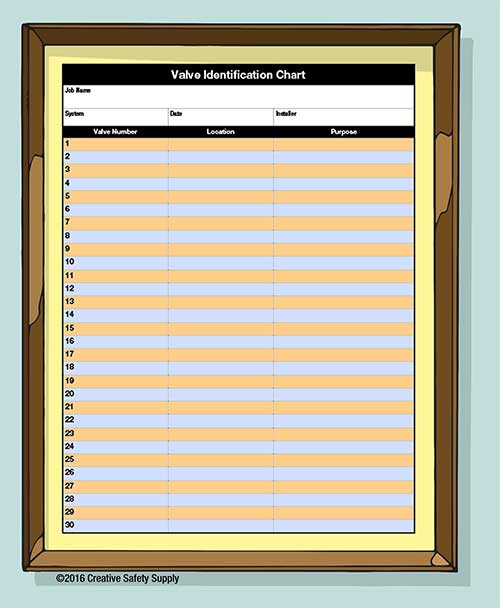 Whether you use colors on your valve tags or not, you will want to have a valve tag chart in the facility that has all the information about the tags you do use. Some companies use pictograms on their tags, for example. A good chart will identify what each pictogram in the facility means. This chart can also be used as part of the training for letting people know what the different valve tags are used for and what information they convey.
Whenever implementing a visual communication standard in your facility, whether it be for valve tags or something else, you want to make sure everyone is aware of what everything means. It doesn't matter how easily someone can see a valve tag or other item, if they have to think about what information it is conveying for several minutes than it is not going to be very helpful.
Valve Tag Materials
The following is a brief overview of each of the different types of materials that can be used for valve tags and why you may want to choose them. Of course, each facility will almost certainly want to use multiple different types depending on what it will be needed for.
Metal Valve Tags
Metal tags are the most popular type of valve tag because of the fact that they are very long lasting and durable. You can get them in many different types of metal (as you will see below) based on your specific needs and desires. Most of the time metal valve marking tags are attached to a valve using a small chain, which will hold it in place for years to come.
Engraved Metal Tags: When using metal tags, you will need them to be engraved with the information you are attempting to convey. Engraved metal tags are more affordable than many people would expect due to the fact that machines today can engrave large numbers of them very quickly.
One worry some people have when choosing engraved metal tags is whether or not they will be easy enough to read. This is often a worry because some types of metal engraving aren't easy to see unless you really get up close to them. Fortunately, high quality engraved metal valve tags use a high contrast engraving technique that makes them easy to read at just a glance.
Embossed Metal Tags: Another option is to use embossed metal tags. Embossing is different than engraving in that it will actually change the depth of the metal to create the design. This is nice because it can actually be felt and can also make it easier to read or see in some situations.
Custom Metal Tags: When purchasing engraved metal tags, you will have the option to choose either pre-made tags or have custom metal tags made. Custom metal tags are a great option because they can look and say exactly the way you want them. When it comes to improving visual communication in your facility, using custom tags like this really are the best option in most situations.
Whenever creating custom valve tags it is a good idea to have the right software to take care of it. Depending on your specific needs you can either use the software that comes with most industrial label printers or you can use something more advanced like AutoCAD. To see the steps involved with creating a custom valve tag using AutoCAD, watch this quick video:
Numbered Metal Tags: You can use numbered metal tags to identify specific valves in the facility. Many companies will tag every valve with a different number, which is logged in a central office or computer system. This will make it fast and easy for them to go and look up all the information about a given pipe.
This can be useful for day to day operations, but more often than not it is going to be more for planning and updating the facility. Having numbered metal tags in place can make it much easier to work on pipes without risking cutting into the wrong one or opening a valve without really knowing exactly what is going to come out. Numbered metal tags are very easy to use and effective.
Stainless Steel Tags
When it comes to metal valve tags, few are as nice as stainless steel tags. These tags are extremely durable and can be used in almost any environment. Due to the properties of stainless steel this is a great option for use around water and many types of chemicals. You won't have to worry about rusting and corrosion like you might with some other valve tag options. Many people love the look of stainless steel tags because it is easy to see even at some distance so smaller tags can still be very effective.
Aluminum Tags
Aluminum tags are very popular. Aluminum has very desirable properties for making tags because it is a low density metal. This means that the tags are very low weight, which can be an important consideration in some situations. Aluminum can also be engraved nicely, which is important when working with valve tags.
Another thing that is very important about aluminum is that it does not become brittle at low temperatures. If you are using a valve tag outside or in freezers or other very cold areas, aluminum is a great option to consider. In areas over 100 degrees Celsius, however, the metal is not nearly as strong so make sure to keep this in mind.
Brass Tags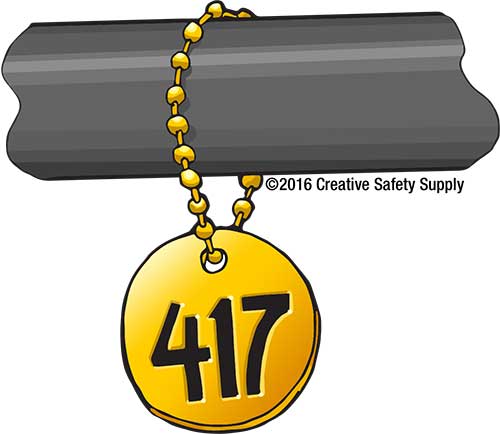 Brass tags are another common option. Brass is a fairly strong metal and it can be used in quite high temperature situations. Brass can also be made harder or softer based on the different levels of copper and zinc, which will give you additional options. In most cases, however, just the standard brass is used for these tags.
One reason why many facilities want to choose brass is because their pipes (at least some of them) are also made with brass. Having a matching tag can be desirable to some companies. Brass is also resistant to corrosion so it can be used around many types of chemicals in your facility.
One great option when using brass tags is to opt for stamped brass tags. Stamping tags like this will quickly imprint the words or symbols you need onto the tag in a way that will last virtually forever. Stamping is a great process when making large numbers of the exact same tag so you'll usually be buying these in bulk.
When it comes to brass tags, stamped brass tags are going to be the most affordable since they can be created so much easier than other options. If you can find a stamped brass valve tag that has the information you need on it, this is likely going to be an excellent option for your facility.
Plastic Tags
If you don't think that metal tags are the right option for you, consider plastic engraved tags. These tags are made from a firm plastic that has the necessary words or symbols engraved into it. In many cases these tags are going to be less expensive than metal tags, which is nice.
Plastic can also be used around water without any concern. Some chemicals, however, can be corrosive to plastic and when used in high heat areas the plastic can melt. Very cold environments can make the plastic brittle, so keep that in mind as well.
Blank Plastic Tags: When using custom tags most facilities will opt for the blank plastic tags. These are great because you can print a custom label that is then applied directly to the plastic valve tag. Unlike metal tags, you can then print a new label and apply it over the existing one (or scrape it off) so that the actual plastic tag can be used over and over again.
You can also get blank plastic valve tags in a variety of shapes, which can help you to have more flexibility when it comes to tagging the valves in your facility. The following are some of the most popular options for plastic valve tags:
Durable Rectangle Plastic Tags with Multiple Holes - These blank plastic tags are very firm and are the perfect size because a standard LabelTac label will fit nicely on it. The tag can then be attached to a valve or other area by using the pre-made holes in the plastic tag.
Durable Rectangle Plastic Valve Tags - This option is also very durable and able to be used in most any situation. You can get these tags in multiple colors so you can use a color-coded tagging system, which can make your valve tags more effective. You can also use standard size labels to create the exact message you need.
Durable Round Valve Tags - If you would prefer a round tag, this is the perfect option. You can get them in multiple sizes and multiple colors so that you can easily communicate a message to people in the area without any trouble.
One thing to keep in mind when using blank plastic tags is that you want to have the right label printer on site to create the custom labels to apply to these tags. You can choose from affordable blank and white label printers or higher end color options such as the LabelTac 6 Duo.
Once you have the right printer you can use almost any type of high quality label medium to create the label you need to put onto the plastic tags.
Numbered Plastic Tags: You can also choose numbered plastic tags to convey the same type of information as the metal ones. Another option is to apply numbered plastic tags both at the valve and at the source of the pipe (which is often going to have another valve). This will make it much easier for employees and others to be able to track a pipe back through the facility.
This may be important when trying to find out why a particular valve doesn't have sufficient pressure, for example, or when they want to work on a pipe and need to shut the valve at the source. By having numbered plastic tags at both ends it will be easy to confirm that they are working on or shutting off the right valves. While it is a very simple solution, it is also very effective, which is the best type of safety effort you can use.
Custom Tags
Another great option is to make your own custom tags. This can be done if you have an engraver (for metal tags) or an industrial label printer for plastic tags. Custom tags are very nice because you can create the tags you need, when you need them. For facilities that use a large number of valve tags it can also be much more affordable to create them right on site rather than buying them from a third party.
Identification Tags
One of the most common and important uses of valve tags is to identify what a valve leads to. For example, you can mark a valve with a tag that simply says, "POTABLE WATER" so people know that when they turn on the valve only water will be coming out. Another identification tag may state things like hot water, non-potable water or any number of other things.
Of course, when a valve is there for other things that is also important to identify. A valve tag that identifies the valve as producing gasoline, ammonia or some other type of hazardous chemical can give people the warning they need so that they don't open it up expecting something different.
Pipe Labeling
When using valve tags in your facility you will almost always be working on a valve that is at the end of or along a pipe in the facility. With this in mind it is a good idea to include a pipe labeling strategy along with your valve tag strategies.
In most cases you can have all the information that you put on a valve tag show up on a pipe label as well. This will make it very easy for employees or others to track a pipe back even if it goes through walls or other areas where it may otherwise be confusing. Many companies find combining pipe labeling and valve tags to be an extremely helpful way to improve safety and efficiency in their facility.
To sum this report up, valve tags and other types of valve markings can be an extremely helpful item for your facility. They are extremely easy to use and very effective at quickly conveying information to people who are actually using the valves.
While the concept of valve markings is quite simple, it is important that you take the time to plan out specifically how you will use these tags and labels to get the most benefit for the facility. This will take some time up front, but in the long run you will find that it can help to dramatically improve the overall safety of your facility while also helping things to run more efficiently whenever pipes and valves are involved.
Sources