Oct 5, 2017
All facilities require fire extinguishers to be on site, charged, and easy to access at all times. They also need to be inspected regularly to ensure they will work should a fire occur. Of all the different rules and regulations that employers need to follow, those related to fire safety in general, and fire extinguishers specifically, are among the best documented. When fire extinguisher safety standards are followed, it can help to minimize the risk of a disastrous fire.
Once the location of a fire extinguisher is chosen, it is important to make sure that they are easy to find. This is typically done by using a number of different types of visual communication tools. Wall signs, lights, and other things are very commonly used, but one thing that many people overlook is the use of floor markings for fire extinguishers.
Advantages of Floor Markings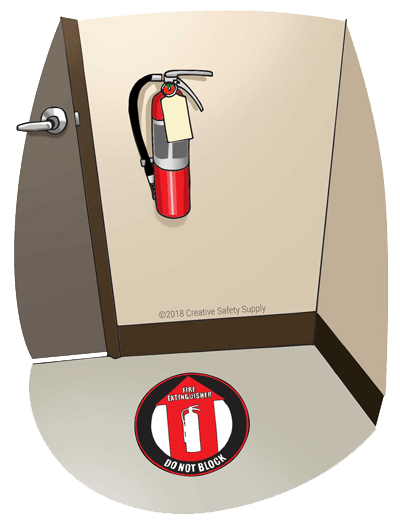 Using floor markings for fire extinguishers brings with it many different advantages. Understanding all the benefits is a great way to help decide whether this type of floor markings are the best option in a given facility. The benefits for these markings including the following:
Visible from Above - When someone is coming through on a high-low or other vehicle, they will be able to easily see the floor markings.
Durable - Floor marking signs, including those for fire extinguishers, are made to be very durable, even in high traffic areas.
Easy to Install - Installing fire extinguisher floor markings is quick and easy, only requiring a clean surface to complete.
Directional - Facilities often use floor markings with arrows to point toward the fire extinguisher location. This can help guide those who need them to the extinguisher itself.
Affordable - Floor markings signs for fire extinguishers are very affordable, especially when considering how long they last. Facilities can put markings everywhere that they are needed with very little cost.
---
Want to know how many extinguishers your facility needs?  
Our free fire extinguisher calculator will help determine the recommended minimum number of portable fire extinguishers.
---
Types of Fire Extinguisher Floor Markings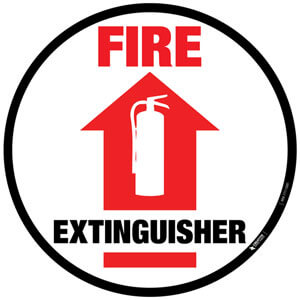 There are many options when it comes to floor markings for fire extinguishers. Each of them will have its own purpose, and in virtually every case, multiple different types can be used together. Analyzing several options can illustrate how they can properly be used in a typical facility.
Fire Extinguisher - Do Not Block
Placing this type of floor marking near the extinguisher itself, with the arrow pointing toward where the extinguisher is mounted, is an excellent way to alert people to its location. The added "Do Not Block" text will remind employees or others in the area not to stack inventory or other items in the area so that the fire extinguisher is always accessible.
Spanish Fire Extinguisher Floor Sign
In facilities where there are people who don't speak English as their native language, having this floor sign can be essential. The Spanish language fire extinguisher floor signs can be used on their own, or alongside the English versions to help ensure everyone is able to understand where a fire extinguisher is located at all times.
Fire Extinguisher Floor Sign
This is a basic fire extinguisher floor sign that sends a clear message about where the extinguisher is located. This can be placed either directly under the extinguisher, or in some other area nearby. The arrow can guide employees, emergency responders, or others directly to the extinguisher so that they can respond to a fire should one occur.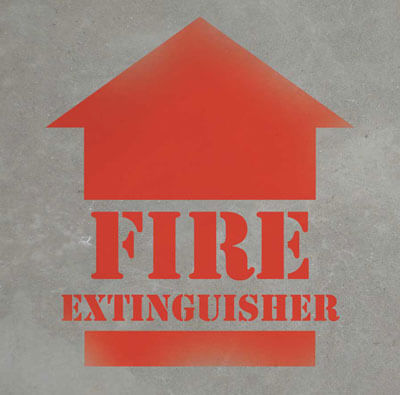 Other Marking Options
There are other floor marking options that a company can consider as well. Some companies will use stencils and floor marking paint in order to convey the necessary message. This does give some additional flexibility on exactly what the floor markings say. Of course, good floor markings signs can also be customized to meet the needs of any situation.
No matter what type of floor marking is used, the most important thing is to ensure the markings convey a very clear message. No markings should increase confusion by making people think that the sign is leading them to a fire exit, for example. Having a well-thought out floor marking strategy for everything in the facility is critical, especially when working to incorporate new markings such as those for fire extinguishers.
Proper Markings Are Required
Whether a facility uses wall signs, floor markings, or other visual communications options, it is important to remember that it is necessary to use some type of signage. OSHA requires that facilities make fire extinguishers visible and easy to access at all times. Signs hanging up throughout the facility can help to further ensure the company is in line with the OSHA regulations at all times.
OSHA is regularly looking into fire safety issues, and issuing regulations on how a facility should be labeling their fire safety equipment, including extinguishers. All safety managers and others working for a facility need to make sure to keep up to date with the latest news and information from OSHA and other regulatory bodies to avoid getting any type of penalty or citation that could cause significant issues.
Updating Markings when Extinguishers Move
Facilities sometimes have to rearrange machinery or other items to improve workflow, or for other reasons. When this happens, it may become necessary to move a fire extinguisher as well. If this is done, it needs to be a priority to add new floor markings that will direct people to the new location of the fire extinguisher. Ideally, this should be done at the same time that the extinguisher was moved so that there is no point where the people in the facility wouldn't be able to find it if needed.
Equally important is going to be removing the old floor markings that are now pointing toward an area that doesn't actually have a fire extinguisher (if applicable). Using heavy duty floor scrapers, it is possible to have even larger floor marking signs removed quickly.
Removing old markings is essential because of the fact that they could lead people into danger. If someone follows an old sign expecting a fire extinguisher, and one is not there, they could get seriously injured. This would also prevent or delay them from being able to put a fire out, which puts the entire facility at risk.
Cleaning Fire Extinguisher Floor Markings
Once any type of floor marking is put in place, it needs to be properly maintained at all times. This means keeping it cleaned so that the sign is visible, and easily legible to everyone in the area. Facilities that purchase heavy duty floor markings will find that they are able to clean them using most any common floor cleaning products that are used in the facility.
The maintenance team can use mops or even large floor cleaning equipment and go right over the floor markings to keep them clean. This will remove grease, dust, and other debris that could otherwise obstruct the view of the sign for those in the area.
Training
As with any type of safety effort in a facility, training must be a key component. While fire extinguisher floor markings are typically self-explanatory, it is still a good idea to provide information to employees about what each one means. This can be done in any normal safety training class that the facility provides. Some companies also put up '˜keys' that display what different symbols mean, which can provide good reminders to employees about what everything means in regards to the floor markings throughout the facility.
Resources