Description
The LabelTac® Pro X Industrial Printer is the easiest way to print all of your GHS, Pipe Marking, 5S, Lean, and other labels in-house!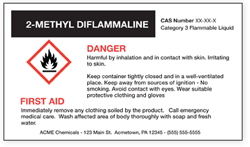 • Print indoor/outdoor signs and labels
• Labels are UV, chemical, weather, wear resistant
• Won't fade or smear over time
• 300 dpi print head
• Supplies are easy to load/unload
• ROHS Compliant + ISO9001 + ISO14001 Compliant
• Thousands of pre-made templates and safety symbols
• Compatible with Microsoft Word, Excel, OpenOffice
• LIFETIME WARRANTY

GHS STANDARDIZED LABEL ELEMENTS:
Symbols (hazard pictograms): Convey health, physical and environmental hazard information, assigned to a GHS hazard class and category.
Signal Words: "Danger" or "Warning" are used to emphasize hazards and indicate the relative level of severity of the hazard, assigned to a GHS hazard class and category.
Hazard Statements: Standard phrases assigned to a hazard class and category that describe the nature of the hazard.
OTHER GHS LABEL ELEMENTS
Precautionary Statements and Pictograms: Measures to minimize or prevent adverse effects.
Product Identifier (ingredient disclosure): Name or number used for a hazardous product on a label or in the SDS.
Supplier identification: The name, address, and telephone number should be provided on the label.
Supplemental information: Non-harmonized information.
The prescribed symbols, signal words, and hazard statements can be readily selected from Annex 1 of the GHS Purple Book. These standardized elements are not subject to variation and should appear on the GHS label as indicated in the GHS for each hazard category/class in the system. The use of symbols, signal words, or hazard statements other than those that have been assigned to each of the GHS hazards would be contrary to harmonization.


Looking for more information on GHS? Click here
Request more information
Send me information about GHS Industrial Printer
Get more information about this product and one of our sales representatives will be in touch with you shortly!
Warranty
At Creative Safety Supply, we guarantee the quality of our products. If you're unsatisfied with your purchase, you can return new, unopened items within 30 days of purchase for a full refund. That way you can feel confident the products you order will meet your expectations, or you'll get your money back.
For full warranty information, please visit our warranties page.
Creative Safety Supply Reviews