Description
Industrial Colored Traction Tape for Floor Marking
Provides enhanced footing indoors or outdoors while offering visual warning of an edge or slip hazard
Grit/Anti-slip factor: 60 grit (Standard)
Resistant to water and chemicals once applied
Peel and stick application; Adheres to most clean, dry, and paint free solid surfaces
Removable backing liner
NFSI 101-A "High Traction" and meets or exceeds OSHA 1910.24, 1910.26, and ANSI B101.1
Industrial Colored Traction Tape provides the anti-slip properties your facility needs to prevent slips and falls. This tape features a 60-grit surface that can increase the safety of a walking surface indoors or outdoors. Bright color options also catch the eye so people know to step carefully. Industrial Colored Traction Tape is easy to install on almost any surface by removing the backing and pressing the tape to the floor. Once installed, this tape will resist water and chemicals, so you won't need to worry about replacing it frequently, even in tough, industrial environments.
Features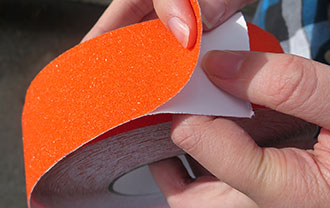 Visual Warning
Bright tape colors catch the attention of people nearby.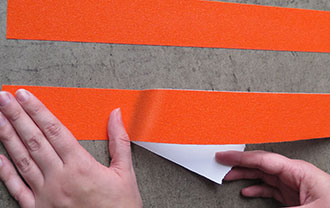 Easy to Install
Just peel off the backing and stick the tape to a clean, dry, and paint free surface.
For best results, adhere tape onto a solid floor or ground. Avoid uneven surfaces with cracks or asphalt.
Resources
Warranty
At Creative Safety Supply, we guarantee the quality of our products. If you're unsatisfied with your purchase, you can return new, unopened items within 30 days of purchase for a full refund. That way you can feel confident the products you order will meet your expectations, or you'll get your money back.
For full warranty information, please visit our warranties page.