Frequently Bought Together
Description
Reclaimed Water Pipe Labels
Reclaimed Water is the waste water that's been converted into reusable water. Identify this specific water pipe with durable pre-printed pipe marking labels.
These pre-made marking labels make it easy and cost-effective to label your pipes and stay OSHA/ANSI/ASME compliant.
Features
Tough Industrial Indoor/Outdoor Vinyl
Fast turn-around for Water pipe labels
Water, Chemical, UV-Resistant
Easy to install: simply peel and stick
Durability: 5-7 Years Outdoors
Service Temp: -25° to 210°
Pipe Marker Dimensions
Pipes 0.75"-1.4" Outer Diameter: 1" x 8" Label, .5" Text
Pipes 1.5"-2.4" Outer Diameter: 1" x 8" Label, .75" Text
Pipes 2.5"-7.9" Outer Diameter: 2" x 12" Label, 1.25" Text
Pipes 8"-9.9" Outer Diameter: 3" x 24" Label, 2.5" Text
Pipes 10"+ Outer Diameter: 4" x 32" Label, 3.5" Text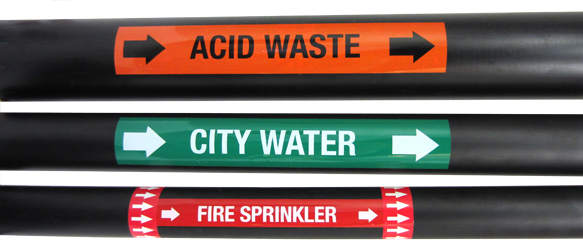 Also check out ammonia pipe labeling requirements.
Related Products
Request more information
Send me information about Reclaimed Water
Get more information about this product and one of our sales representatives will be in touch with you shortly!
Warranty
At Creative Safety Supply, we guarantee the quality of our products. If you̥re unsatisfied with your purchase, you can return new, unopened items within 30 days of purchase for a full refund. That way you can feel confident the products you order will meet your expectations, or you'll get your money back.
For full warranty information, please visit our warranties page.
Creative Safety Supply Reviews